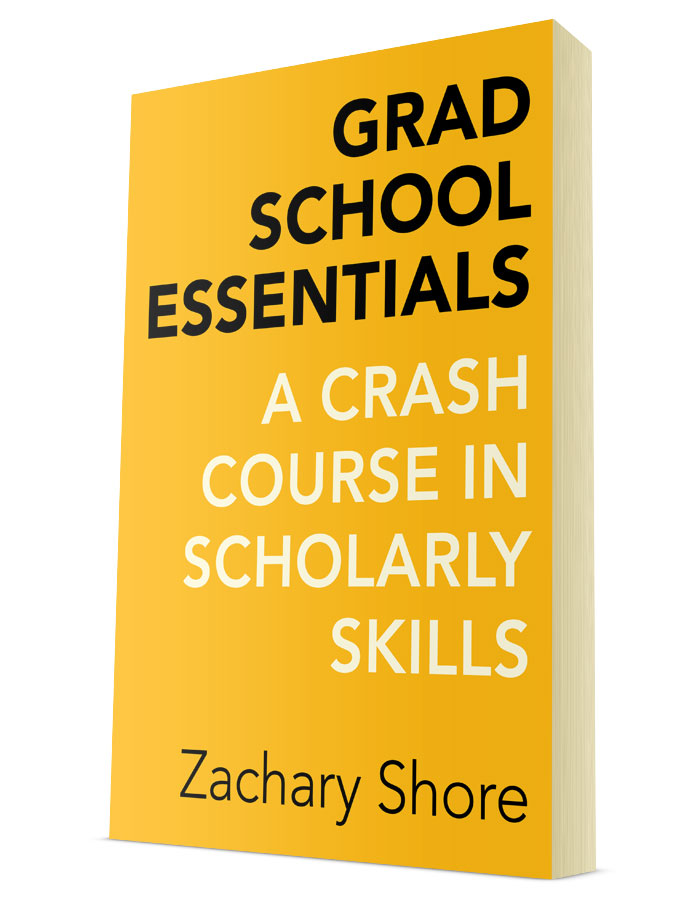 Grad School Essentials
Zachary Shore's Grad School Essentials is simply terrific: pithy, engaging, full of good advice about writing, reading, researching, presenting and behaving in general. Aimed at grad students in the humanities and social sciences, many of the ideas and techniques are also relevant to those in the sciences and to undergraduates. As a matter of fact, most of my faculty colleagues would benefit from studying this book, as I did.
Description
What's the hardest part of grad school? It's not simply that the workload is heavy and the demands are high. It's that too many students lack efficient methods to let them do their best. Professor Zachary Shore aims to change this. With humorous, lively prose, Professor Shore teaches you to master the five most crucial skills you need to succeed: how to read, write, speak, act, and research at a higher level. Each chapter in this no-nonsense guide outlines a unique approach to acquiring a skill and then demonstrates how to enhance it. Through these concrete, practical methods, Grad School Essentials will save you time, elevate the quality of your work, and help you to earn the degree you seek.
This witty and highly readable book smartly cuts through the mysteries of higher education and reduces them to clear, manageable steps. Grad School Essentials is a grad school essential — a useful book for graduate students everywhere.
Do you want to read, write, and speak with more insight, clarity, and efficiency. If you're like most of us, your answer will be simple: yes. Shore's fine little book will show you how. Brief and jargon-free, it's a model of the methods that any good scholar should follow.
This down-to-earth, accessible guide offers extremely valuable insights into reading, writing and the often ignored topic of students' academic demeanor. Every time I teach a course for undergraduates or graduates, I face students who struggle to perform the tasks that this book addresses. At last I can refer them to a resource they can truly use. I wish that all my students would assimilate the lessons Shore provides.
Zachary Shore has written a remarkably helpful guide to the crucial skills that students need as they navigate their way through undergrad and graduate school. With catchy phrases and easy-to-remember guidelines, Shore speaks to the student in his own distinctive voice. Shore is himself a phenomenon, zipping through graduate school at challenging institutions, discovering neglected archives, writing five books, and accumulating a host of awards and fellowships. His many successes give him the authority to write a book of this kind.